© Unsplash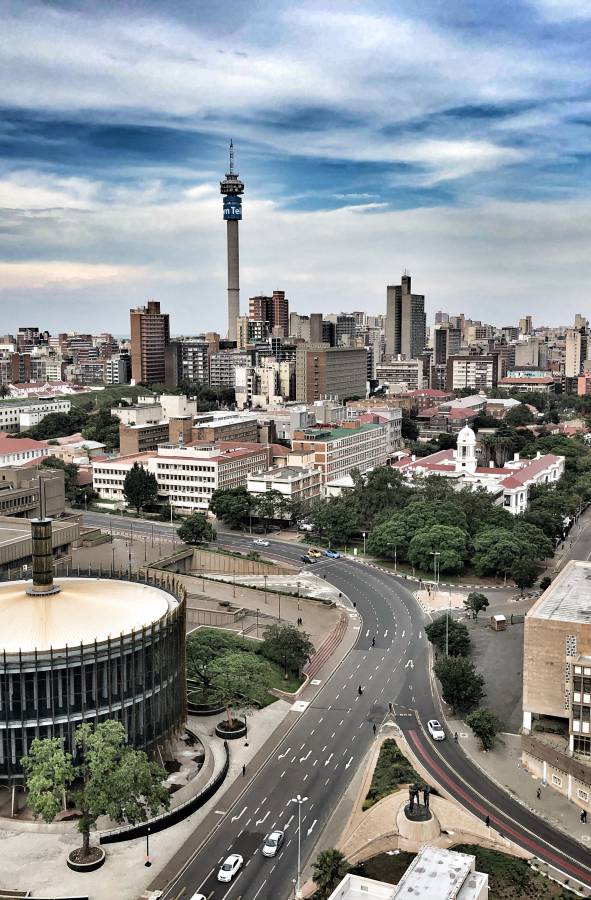 Johannesburg
25th - 27th November 2021
Cancellation of the Reeperbahn Festival International presentation in Johannesburg
Due to the Covid variant Omikron appearing in November 2021, we decided (in close consultation with our partner Music in Africa Foundation) to cancel the Reeperbahn Festival International presentation on 26 and 27 November 2021, which would have taken place for ACCES on location in Johannesburg. The health of all those participating in attendance was our first priority.  
The announced matchmaking will instead be hosted on the digital Reeperbahn Festival conference platform as soon as possible. Further information will be available here in a few weeks.  
The originally planned program can be found below. 
PANELS 
Presented by Reeperbahn Festival 
PANEL #1: Talent development, incubation and investment models for African creators  
Date: Friday 26 November 
Time: 14:50 - 15:35 (SAST) 
Venue: Sci-Bono Discovery Centre 
Topic: Development, capacity building and finances are key for African music creators to perform in and beyond Africa's markets. Despite contrasted context and needs, how can cooperation be key in leveraging access through connections, collaborations and networks? 
With 
Sevi Spanoudi, Founder – Black Major (South Africa), moderator  
Fosta – Bridges for Music (South Africa) 
Patricia Wachira, Communications Lead - PerFORM music incubator (Kenya) 
Laurent Bizot, Founder - No Format (France) 
Colin Schrinner, Head of Tunecore Germany (Germany) 
PANEL #2: Empowering African artists to get their music heard (Driving inclusivity and connecting talent with audiences worldwide)
Date: Sat 27 November 
Time: 11:20 - 12:05 (SAST) 
Venue: Sci-Bono Discovery Centre   
Topic: African and global platforms have been expanding to help artists get their music out and prosper both on the continent and abroad – from playlists to accelerating programmes and brand deals. How do music distribution models and platforms (both local and global) contribute to drive inclusivity in the global music market? Distribution and promotion executives share best practices, opportunities and collaborations across markets to connect African talent with worldwide audiences.   
With  
Phil Chard, Founder - PointBlack (Zimbabwe) 
Mpumi Philips, Director of Distribution – The Orchard (South Africa) 
Philip Edusei, Co-founder – UR-PR / Unorthodox media (Ghana) 
Yuvir Pillay, Music Operations Manager Africa - TikTok (South Africa)  
Larissa Fainberg, Editorial & Marketing Partnerships Leader - Believe Africa (South Africa)  
ACTS  
ACT #1 - Yugen Blakrok (South Africa) 
Date: Fri 26 November 
Time: 22:20 to 23:00 (SAST) 
Venue: Constitution Hill 
ACT #2 - Sampa the Great (Zambia) 
Date: Sat 27 November 
Time: 22:00 to 23:00 (SAST) 
Venue: Constitution Hill 
Presented by: Bassline Fest in partnership with ACCES and Reeperbahn Festival 
WORKSHOP 
Production essentials 
Presented in cooperation with Goethe Institute 
Date: Fri 26 + Sat 27 November 
Time: 10:00 - 17:00 (SAST) 
Venue: Sci-Bono Discovery Centre 
This 2-day workshop addresses both established and aspiring record producers. It is facilitated by top record producers and engineers who are keen to share their top production skills on beat making, music arrangement, DAWs, plugins, mastering and useful production tools. 
With:  
37mph, Award-winning DJ & Producer (South Africa) 
Muzi, Singer, songwriter, and record producer (South Africa) 
MATCHMAKING 
Date: Fri 26 November 
Time: 12:30 - 14:00 (SAST) 
Venue: Sci-Bono Discovery Centre + Reeperbahn Festival conference platform 
A matchmaking event exclusively curated together with the Music In Africa Foundation. Here, up-and-coming as well as renowned African decision-makers from various artist, creative and live management agencies, labels and publishers are connected with their European counterparts on site and via digital 1:1 meetings.